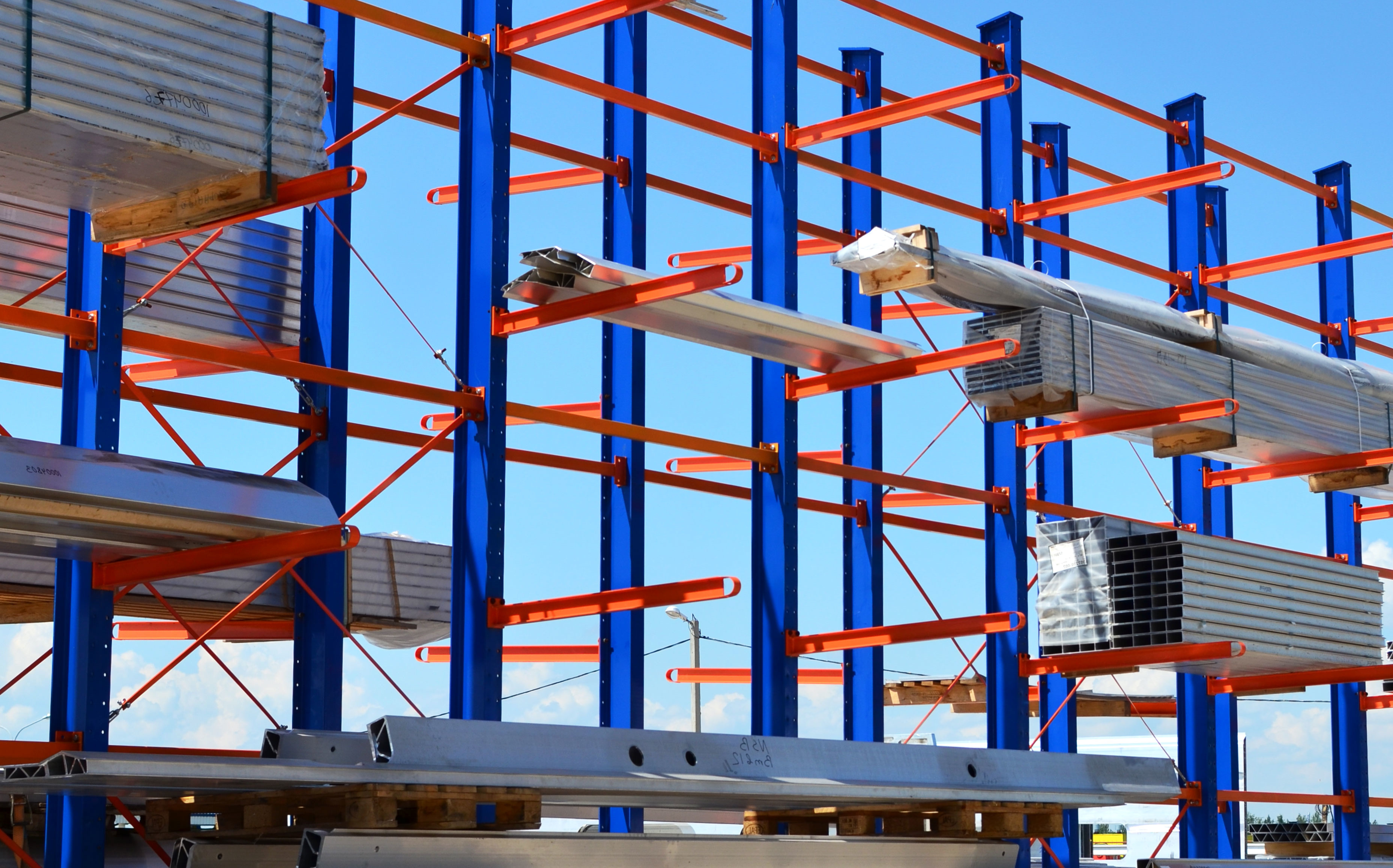 What is a Cantilever Rack?
A cantilever rack allows for the storage and systematization of things that can't be stored on pallet racks easily. For supporting cantilever arms, cantilever uprights are used in warehouses, which allows for horizontal storage of heavy and long products across multiple arms. It is a perfect storage system for several different types of products that usually go misinterpreted in terms of design and usage. Unlike any other racking system, cantilever racks offer no vertical obstacles in the storage area.
This does not mean that traditional pallets can't be stored on cantilever racks. In order to store both oversized products and traditional pallets, this racking system can be configured depending on the requirements of the warehouse. However, pallets can be stored only one-deep per row. If the warehouse stores nothing but traditional pallets, cantilever racking can still be employed but it will not utilize the space as efficiently.
Key Components of Cantilever Racks
Uprights – These are the perpendicular beams that give support to the arms.
Base – The uprights attach directly into the base, most commonly bolted. Base offers the support and stability to the uprights with the purpose of bearing the load.
Braces – These join and support the uprights in order to offer strength and firmness.
Arms – These are the horizontal beams that support the load when stored. They can be adjusted at diverse angles depending on storage requirements.
Slotted Cantilever Racking
Slotted cantilever racking is a perfect storage system, especially when it comes to the manual storage of light loads and even the ones that are quite heavy. They are totally dismountable and can be adjusted or expanded lengthwise and height as well. Slotted cantilever racking has the capability to cover the entire storage demands ranging from fully planned requirements to the most immediate.
The variety of slotted cantilever racks is made available in various gauges and sizes with angles coming in powder coated, plain, hot dip galvanized, and painted finishes in order to promise in these higher corrosion resistance and extended service life.
Advantages
Flexible yet strong build standards that caters to the utmost storage requirements
Designed to meet both intricate and uncomplicated structural needs
Precise compartments and dimensions
Simple to install and maintenance free
Dent resistant, equally spaced shelves, and superior load bearing strength
Stable base on surface and free from sharp edges
Augments storage capacity of any facility significantly
Can be assembled with the help of nuts and bolts
Adjustable height, easily movable, and lightweight
Hard-to-shelve items can be stored without any hassles
Additional arms can be added allowing for storage of all shapes and sizes
Is capable of storing any type of load from pallets to timber
Being water resistant, corrosion can be prevented
The usability of office and warehouse can be maximized
Applications
Hospitals
Police Stations
Offices
Shops
Homes
Public Libraries
Stalls
Grocery Stores
Schools
So, if you are also in search of the best cantilever racking system, make sure to get in touch with Storage Equipment Corp. We have a team of racking professionals who can help choose the most promising option depending on the type of facility you have!