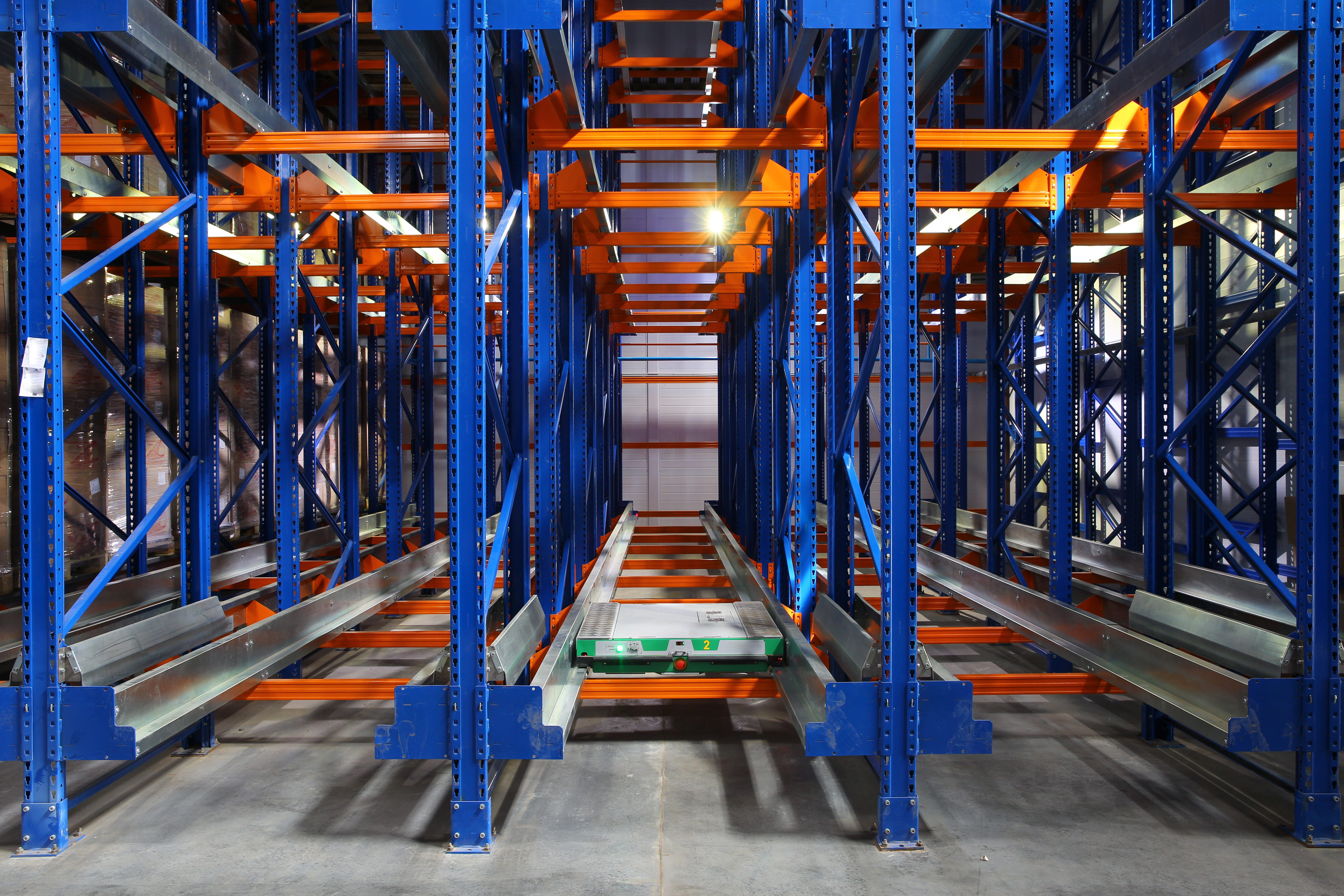 What are push back racks?
Push back racks are a kind of pallet storage system that lets pallets to be stored on both sides of an aisle, offering higher density storage as compared to other pallet rack solutions. These are beneficial for medium to high SKU counts. Push back racks are LIFO (Last In, First Out) pallet racking system, which is ideal for a facility that needs to make the most of storage and has products that aren't subject to expiration, deterioration or obsolescence.
Push back racking is designed to improve the storage density of the existing warehouse up to 25% by getting rid of aisles required in a selective rack setting. Additionally, it stores multiple SKUs and the front loading & unloading ability lessens the cost of labor when compared to the drive-in and double deep pallet racking solutions. These are widely used in industries such as food & beverage, consumer products, cold storage, grocery, and other industries with high pallet counts.
Working of push back racks
The working of push back racks is very simple because it is a LIFO (Last In, First Out) system. When the 1st pallet is loaded from the front, it sits on the 1st cart on the track. The 1st pallet is pushed one position further when the 2nd rack is loaded. The 2nd pallet is then either positioned on the rail in a 2-deep system or positioned on the following cart in a 3-6 deep system. The procedure goes on until the track is full up to 6 pallets deep.
However, the order is reversed while unloading the pallets. The rails are inclined toward the aisle. To take away a pallet, the operator of the forklift truck lifts the pallet off, reverses slowly and the following pallet comes forward and into the front place. The procedure is repeated until the track is empty.
Features of push back racks
Low profile – The lowest pile height of the industry measuring 6six inches on the six deep system
Captured carts – Averts cart lift-out by forklift truck operators
Linked carts – Gets rid of the likelihood of a load being stranded and rolling out of control all of a sudden
Welded rail frame – In order to avert expensive maintenance and field misalignment, the rails are permanently aligned at the factory
Serrated pallet grips – Lets defective placement of pallets by grabbing the underside of the pallet making sure that the load stays correctly placed on the cart.
Applications of push back racks
Industries with high pallet counts or mid-level SKU counts
High seismic areas
Food manufacturing and distribution
Consumer packaged goods
Pharmaceuticals
Automotive
3rd party logistic facilities
Grocery
Food & beverage
Cold storage
Advantages of push back racks
It can be arranged as a standalone bay, or as a back-to-back system
It gets the most out of warehouse capacity and space utilization
It is available with a nested wheel cart or on series 2300 wheels
It offers high selectivity
It leads to quick operations
It controls inventory by pallet, making sure LIFO usage
It provides high density storage
It has the capability of storing multiple SKUs on various levels of lanes for effortless product access
There are a lot of benefits of using push back racks from Storage Equipment Corp. Since the pallets come to the aisle, a push back rack is much quicker to load as well as unload as compared to any drive-in rack. In addition, stock rotation and occupancy are improved to a great extent with this racking solution as each level can store a different product.
To know more about push back racks, make sure you approach Storage Equipment Corp. and make the most of the storage space available at your facility!