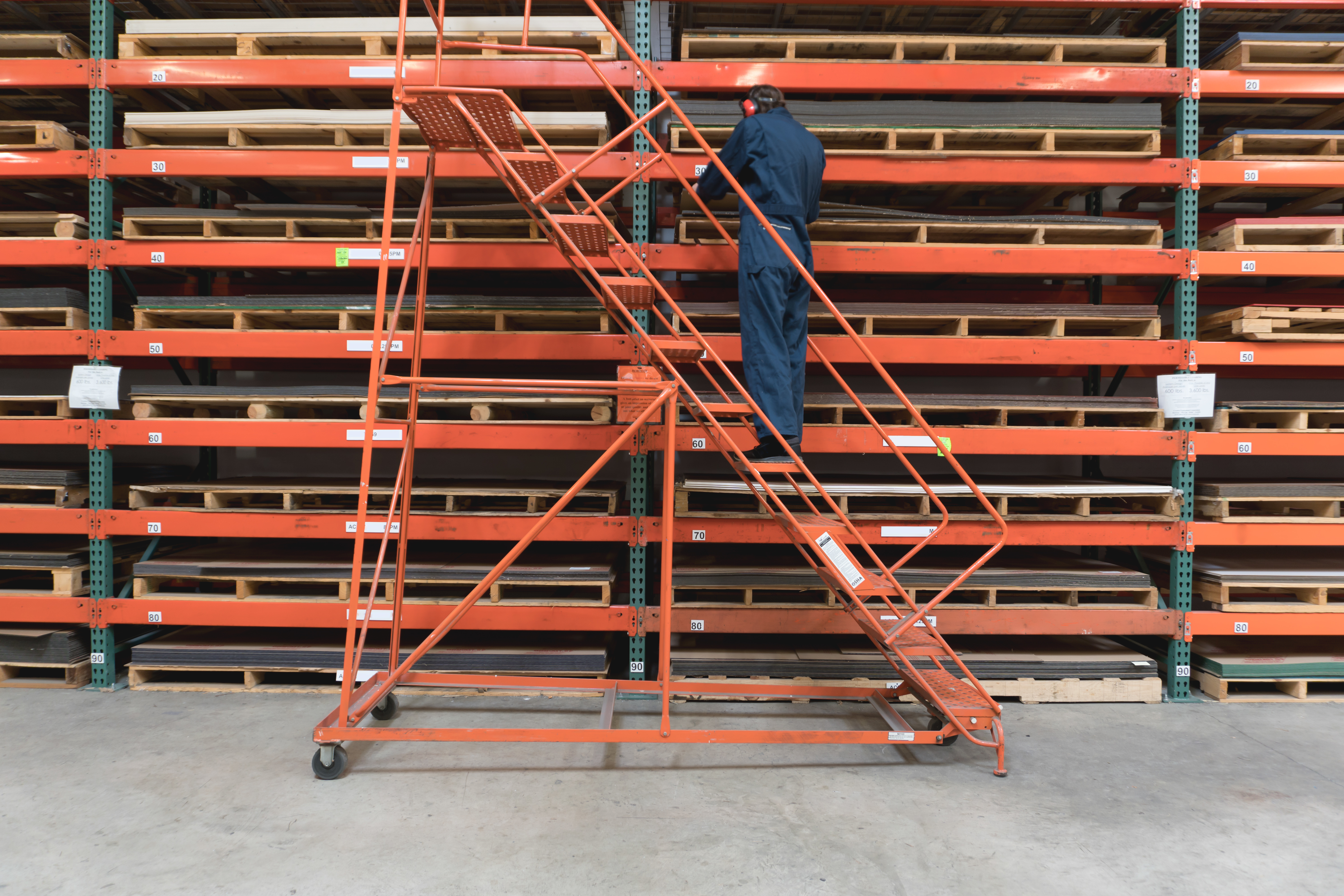 Safety Ladders
At Storage Equipment Corp., we offer a full spectrum of portable, order picking safety ladders. These are available in a variety of sizes in order to make the operations of the warehouse simpler. Order picking ladders are not collapsible and don't fold up such as an A-frame ladder. The majority of them are manufactured from aluminum and are available in a wide variety of sizes from 3-step to 14-step, but you can even get them in steel platforms ranging from 2-step to 12-step.
Create a safer workplace with safety ladders
The major reason why companies must make use of suitable safety ladders is to create a safer workplace. As per the CDC (Centers for Disease Control), ladders can be one of the most dangerous tools to work with, as 43% of fatal unintentional falls have resulted from ladders.
Having the correct sort of safety ladder installed at the job site can make a significant difference in putting a stop to such sort of tragedy. It is even smart to pick the right materials as well as accessories for the safety ladder in order that it can offer safe access to higher points in the warehouse.
Finally, you have to spend time training the staff on the way to climb the ladder correctly. Think about training the employees to employ the standard 3 point-of-contact climb. They are required to even have knowledge of their center of gravity and its effects on their position on the ladder.
Especially, the team is always required to know about possible risks and be dedicated to following all safety measures when climbing ladders.
Let your staff access more areas of the warehouse with safety ladders
To end with, a quality safety ladder is one of the most excellent ways you can provide the business with flexibility when it comes to storage as well as access to diverse areas at the workplace. With the huge amount of open square footage in the warehouse, you often are required to be innovative with the aim of making sure the company is capable of making use of the entire available space.
A safety ladder can provide you with better access to the real estate you are paying for. With proper safety ladders, the staff can reach up to the highest points in the space. Always keep in mind that it is still significant to adhere to the safety codes. Keep away from storing or stacking items ahead of what is permitted by such regulations.
Industrial warehouses have an opportunity to make the most of the advantages that safety ladders offer their work environments. Such tools can help the business do more whole staying safe and putting a stop to injury or loss of life. Make sure you approach us at Storage Equipment Corp. in order to get the best quality safety ladders for your facility!