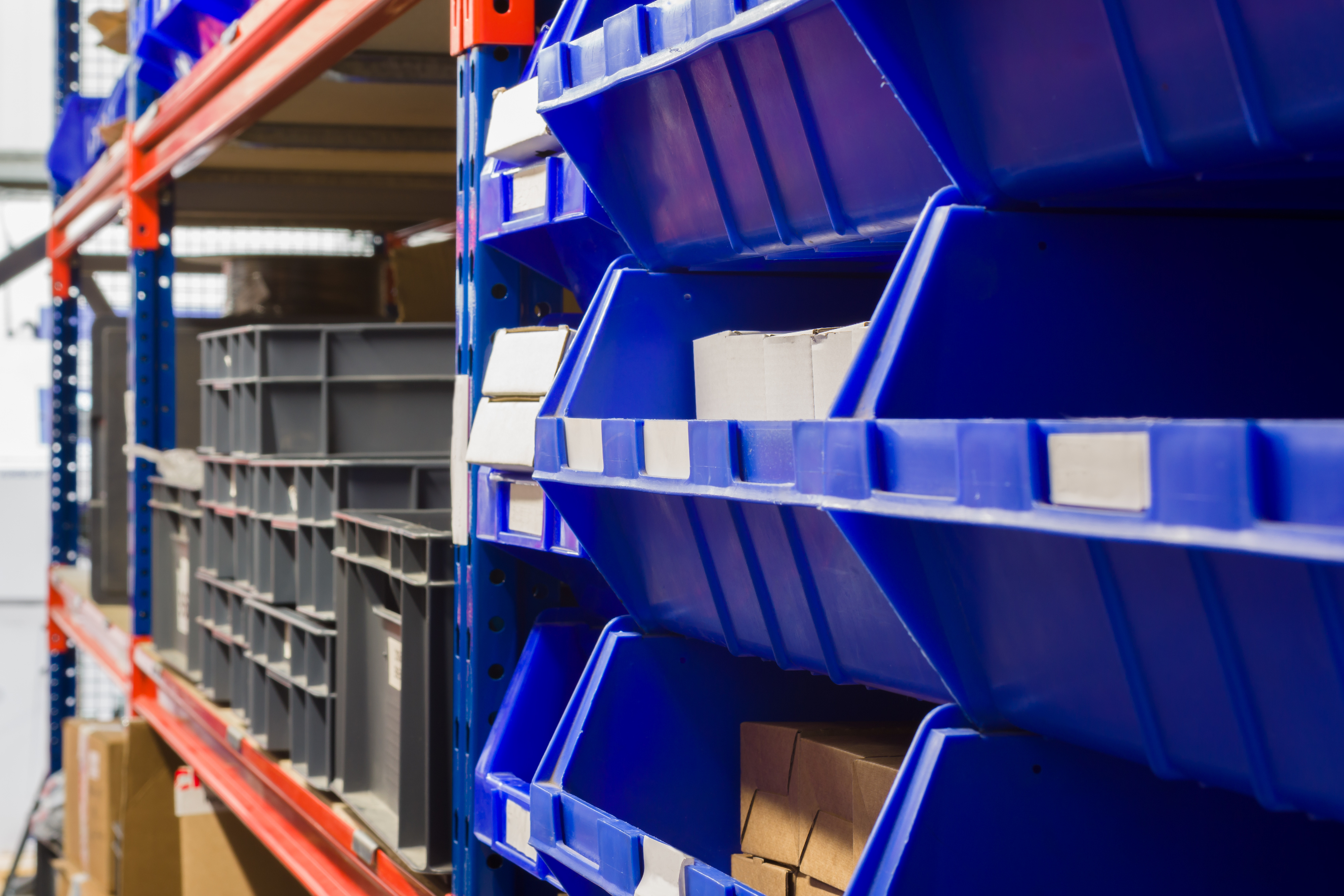 What are stackable bins?
Stackable bins are the smallest available units of space in a warehouse. They illustrate the place in the warehouse where the goods are or can be stored. In order to find a specific storage bin, a coordinate system is employed. As a result, a storage bin is often known as a coordinate. For instance, numbers 01-02-03 point out that a specific stackable bin is situated in row 1, stack 2, and level 3. Quite a few extra features of stackable bins are used for their description, including:
Fire containment section
Total capacity
Type depending on the size of pallets (large or small)
Maximum weight
Reasons to opt for stackable bins
Stackable bins help save a significant amount of money and time, making them the most common as well as popular storage solutions for parts of any size. The entire range of stackable bins at Storage Equipment Corp. is made from high density, durable and FDA approved polypropylene. Regardless of the type of parts, inventory or supplies you are looking to put in order or store, stackable bins offer you a cost-effective, reliable and durable solution.
Stackable bins at Storage Equipment Corp. have an open hopper front that lets you have uncomplicated access to the contents of the bins, even when they are loaded.
Applications of stackable bins
Stackable bins are most commonly used in the following:
Warehouses
Offices
Garages
Basements
Doctor's offices
Hospitals
Pharmacies
Homes
And, anywhere else where storage and organization is vital
Stackable bins are a vital component of the Warehouse Management System (WMS), the key component of the supply chain controlling the storage and movement of goods and/or materials within a warehouse, while handing out the linked transactions, such as shipping, receiving, put away and picking.
Sizes of stackable bins
To meet a variety of needs, stackable bins are available in a wide range of sizes, ranging from 4" long to 42" long, and the majority of them have optional dividers. These can also be loaded with dividers in them. Because the majority of stackable bins have an open front, clear windows are used to let you get the most out of the capacity, protect against dirt and dust, and even avert anything from falling out of the open front.
There are several types of stackable bins that have optional wheels that are helpful for transporting bulky and heavy products. Even though these bins can be undoubtedly used on a desktop or even simply being stacked on the floor, however, a lot of people wish to use them on shelving units. In addition, you can choose from stackable bins that can be hanged on a floor stand or a wall mounted panel.
Benefits of stackable bins
Stackable bins offer distribution centers and warehouses long lasting, durable solutions that help improve the supply chain. Regardless of the facility is full of small components that are required to be structured, micro chips that are required to be protected, or clothing that is required to be efficiently stocked up, stackable bins are sure to capitalize on productivity while lessening human errors and downtime.
If you are in search of a productive approach to put these stackable bins in order, Storage Equipment Corp. has a complete selection of shelving units that come with the precise bins to meet your needs. Get in touch with out professionals today to find out more!