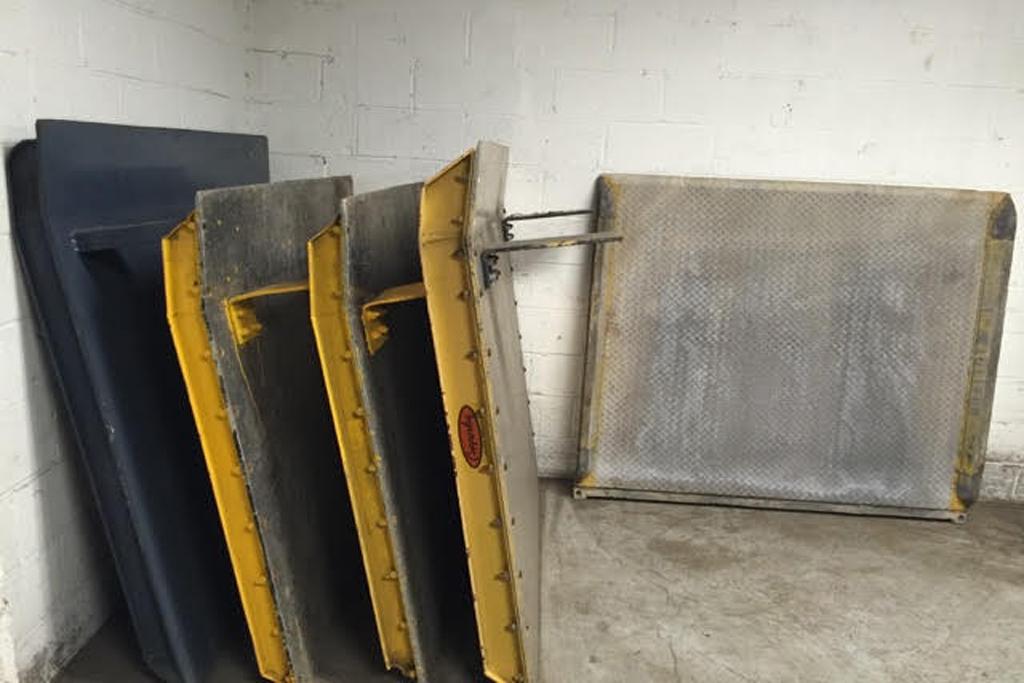 What are dock plates?
Dock plates are a lot like dock boards but without curbs. They are used to bridge a gap from one area to another in material handling operation. However, unlike dock boards, dock plates are a leveled piece of metal with a minor curve for an effortless transition. Dock plates come in either aluminum or steel and can reach capacities up to 17,000 pounds. Interestingly, the additional capacity that dock boards are capable of attaining comes from the structural addition of curbs.
Features of dock plates
Construction – Dock plates are usually available in aluminum
Used with – Dock plates are often used with lighter equipment such as foot traffic, pallet jacks, and hand carts
Transportation – Dock plates can be carried by 1 or 2 people with the help of built-in handles
Weight – Dock plates are generally lighter than dock boards
Exclusive features – Dock plates have legs that are designed exclusively to avoid the plate from shifting out of place
Dock plates are often used to bridge a gap between the dock and the trailer in loading yards and warehouses. At Storage Equipment Corp., we have a complete selection of dock plates that are made from durable aluminum and steel and come in a wide range of weight capacities and sizes. Do not miss to check out a selection of dock plates if you are looking for a permanent, retractable bridge from trailer to dock at your facility.
Premium aluminum dock plates
Dock plates from Storage Equipment Corp. use the same high-quality ANSI rated Aluminum as the AC and BC model aluminum forklift ramps, making them the highest quality dock plates available on the market. Apart from being lightweight, dock plates we offer are hand portable and OSHA 1910.3 compliant as well.
Dock plates are designed especially for lower volume loading environments where non-powered equipment is used. They are light enough to be placed manually and are perfect for both the loading dock and to take out on delivery vehicles. The aluminum decking used on dock plates is the same as what is used on Aluminum Dock Boards. However, because of the lack of steel curbs dock plates aren't able to offer a fixed weight capacity.
Benefits of dock plates
Stackable bins are most commonly used in the following:
They are safe – The entire warehouse equipment should be safe. The great thing about loading dock technology is that its design has operator safety in mind. Unluckily, human errors do happen and lack of knowledge and poor judgment are often the root causes.
Ease of use – In addition to being safe, dock plates are simple to use as well. They are even simple to maintain and are designed to increase overall productivity.
Capable of handling loads of all sizes – Dock plates can usually handle loads up to 17,000 pounds. They are designed to deal with heavy traffic. So regardless of the weight of the product, you can rest assured that the dock plate will not cave under the pressure.
When it comes to dock plates, you need to come across the kind that works wonders for your facility. Approach Storage Equipment Corp. and check out the complete range of dock plates!