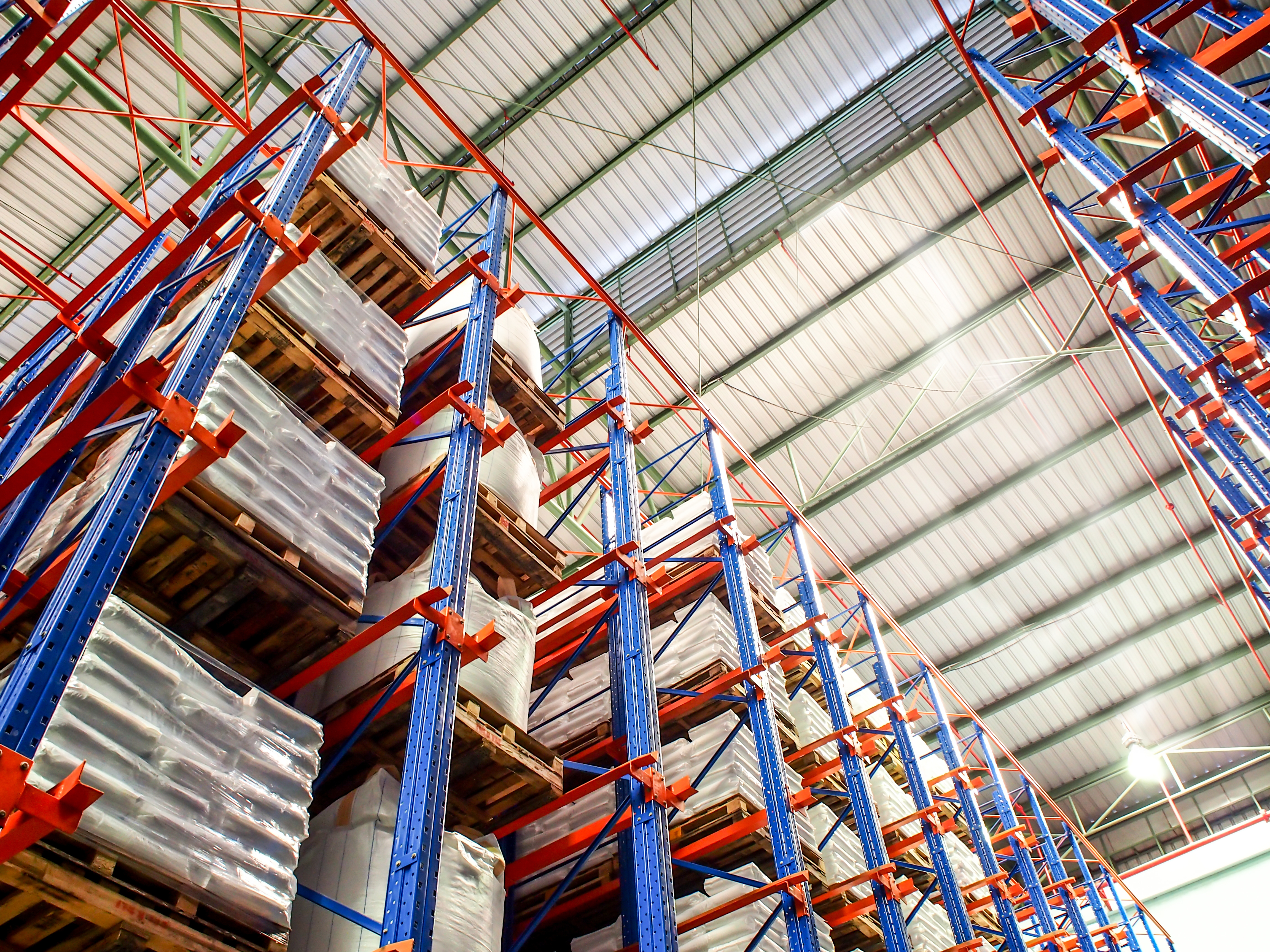 What is a drive-in rack?
Drive-in racks are known for increasing storage space utilization significantly. They get rid of picking aisles and are the perfect solution for storing huge quantities of similar pallets. Drive-in pallet racks offer safe block stacking for goods that are too delicate to be piled one on top of the other. These pallet racking solutions are usually a dense storage system that has been conceptualized for dealing with several varieties of SKUs produced or dispatched in batches.
These pallet racking solutions offer a high density and low budget storage solution for facilities with lower SKU count. They are FILO (First In, Last Out) system as the forklift truck literally drives into the rack system to load the pallet onto rails and backs out of the rack system. As the name suggests, material handling equipment such as reach trucks drive inside the racks in order to access the pallets. Each storage bay is only one pallet wide.
Types of drive-in racks
For loading and unloading of pallets, LIFO (Last In, First Out) principle is applied to a drive-in pallet racking solution. On the other hand, FIFO (First In, First Out) principle for loading and unloading of pallets is applied to Drive Through installations. To guide the forklift truck or pallets and to look after the installation, the specialists at Storage Equipment Corp. recommend the use of ground rails.
Depending on the accessibility and the load and unload process, the following are the three common types of drive-in pallet racks available:
Drive-through
Single drive-in pallet racking
Double drive-in pallet racking
At Storage Equipment Corp., we make use of high visibility upright guards and ground rails in order to increase the productivity of drive-in racks. The entry guides are not connected to the ground rails, letting speedy replacement in case of damage.
Features of drive-in pallet racks
They are made to deal with unpredictable temperature and extreme pressure
They are known for very long service life
They are lightweight with extreme workout
They are highly durable and reliable
Applications of drive-in pallet racks
Producers with limited batch production, date segregated production or limited product variation
Manufacturers with limited SKU counts
Grocery and cold storage
Food & beverage
Benefits of drive-in pallet racks
Very efficient storage
Better use of space
Low capital investment versus other high density options
Allows the stocking of a variety of goods
High storage density for certain product mixes
No aisles required between pallets
The capability of storing pallets back-to-back without aisles
What makes drive-in pallet racks stand out?
Adaptable to a varying pallet or load heights
Stability and safety elements to support your operation
A complete selection of accessories to augment safety during operations
Suitable for industries involved in batch production
Can be put together for LIFO or FIFO dispatch
To learn more about how drive-in pallet racks can improve operational efficiency in your facility, make sure you approach the experienced representatives at Storage Equipment Corp. today!