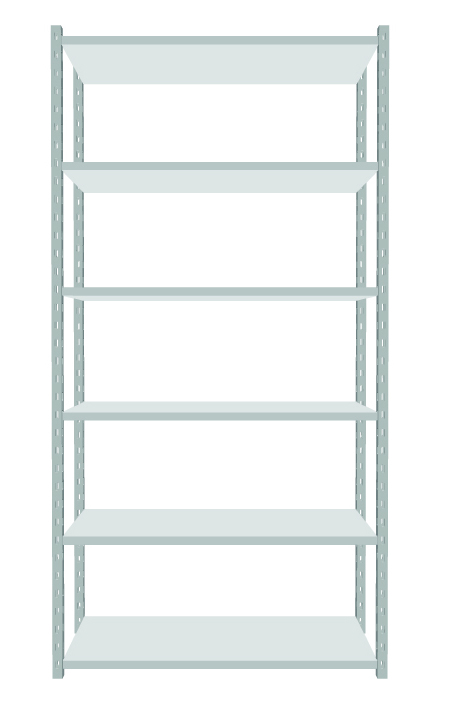 What is shelving?
Shelving is a general means to store cartons, totes, or individual pieces of products. It consists of shelves and vertical posts that are designed exclusively to hold a few hundred pounds on each shelf. Shelving created with a warehouse in mind is built to keep up with every heavy-duty and high-density storage requirement of the warehouse. Warehouse shelving helps to get things off the floor, take full advantage of space, and make things convenient to store, see, trace, and finally, take away for delivery.
Steel Shelving
Steel shelving is most commonly used where products are stacked and picked physically or for the purpose of storing small components and parts. Steel shelving is generally either "open" or "closed" style.
Open style steel shelving – It is less expensive and is supported by back and side sway braces, which allows for additional ease of access.
Closed style steel shelving – It adds more firmness for heavier products while providing additional safeguard.
When it comes to storing general small products, components, and small parts, steel shelving always works wonders.
At Storage Equipment Corp., we know that not every storage application takes place on a vast scale. At times, it is not engineered racking systems, but instead, a small number of units of sturdy steel shelving that are required. That is the reason we are a stocking distributor of industrial steel shelving. We can always cater to your specific requirements regardless of you are in need of a single storage unit of shelving with the purpose of storing different tools or a 100' run of heavy-duty industrial shelves.
These days, industrial shelving is the most common storage solution found in the majority of warehouse facilities. Things often get complicated with a wide range of manufacturers available nationwide. At times, it is difficult to be familiar with which shelving is correct for your specific needs. At Storage Equipment Corp., every application is studied by the experts prior to making a decision of which is the best fit to meet your unique warehouse or storage requirements.
Benefits of Steel Shelving
Dependable shelves
Cost-effective
Added strength as necessary
Durability and strength
Convenient to assemble
Flexible setup
Wide Span or Wire Shelving
Wide span or wire shelving is one more alternative for the purpose of storing bigger hand-picked things like boxes. They are known for providing wonderful flexibility, since they can be adjusted effortlessly to meet varying requirements. Think of this kind of shelving; with cross beams supporting upright frames, and either wire deck or plywood as the actual shelving. It is perfect to store records and additional general purpose.
If used shelving is more up your alley, we have got you covered on that end of things too. Used shelving is available in diverse sizes, which allows for maximum storage density. Because the majority of shelving is generally located by hand, narrow aisles can be included in the storage design. If you have a significant amount of space, consider including a set of rolling stairs or also an order-picker and stack to the ceiling.
Where shelving is used?
Shelving is often used at places such as large warehouses, distribution centers, manufacturing plants, grocery stores, departmental stores, automotive stores, military surplus warehouses, and hardware stores.
We carry a complete selection of used shelving products in our New Jersey location including nut and bolt shelving, clip type shelving, boltless shelving, and wide span shelving in diverse capacities and sizes. Visit us today to get a quick quote!